Part 1
Based in rural part of western Kenya, the Bangaisa crew has amassed popularity for all the right reasons. As the election approaches, their campaign song for the Kenyan communist party has created waves. Here are some snippets of the conversation with the crew.
The International: How did you meet and decide on rapping?
Bangaisa Crew: Football is what brought us together I'm striker he is a defender. One day after the training my friend approached me and told me 'Davin, Buka said that she wants a song that will mobilise the youth. And I was a rapper and I was still training, I wasn't perfect. I was just trying and then I asked people for feedback. I didn't want them to tell me what was right, but tell me what was wrong so that I could correct it. So we looked for a beat and then we started… The people liked it; they were like that's good man. Then my friend wrote the first verse. So, this is how we met. My friend has a different version of the same story.
But, we could not depend on football. Because football there's risk of injuries, not everyone is going to make it, we have to find an alternative. So I knew a little about rapping. The little I knew I had to pass it to them. As time passes, we worked together as a team. Our aim here is to have our own record label and sign young artist from our area.
The International: Is there anyone you look up to? Who are your musical idols?
Bangaisa Crew: Yes, we are influenced by Khaligraph Jones, then we have Mbogi Genje – it's a group of 3 boys. Then there're some ruthless rappers from the ghetto, they rap about what we go through every day- the hardships, the hustle, sleeping hungry. These are the people we look up to. Internationally, I listen to British rappers- Tion Wayne, Russ Millions. I also like Young Thug. But the content, I derive from what I see and what I think about. The flow and everything else I can get from them. What I write about now is what I see, what I feel, what I dreamt about. This is how we write our music. Sometimes we sit together and take a sentence and rhyme about it. I encourage them to listen and think critically. Think about something that makes sense and put it in a beat.
The International: What are the challenges you face as young musicians who talk about issues that matter? Tell us about the struggles you've faced.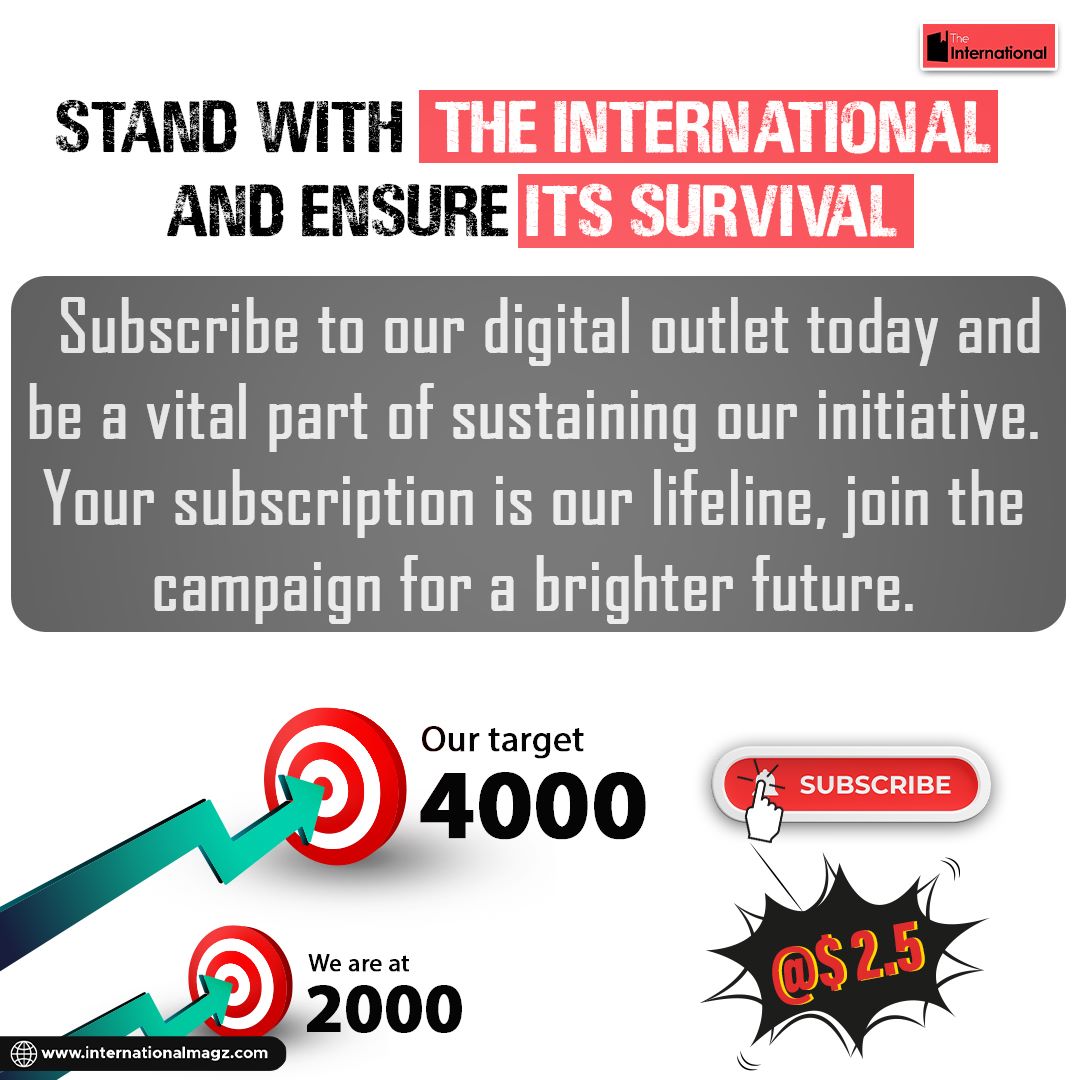 Bangaisa Crew: First of all, most of the people do not trust us. Most people think we sing about trash, about gengetone and politics. Before we did it, those were two different, parallel things.
Secondly, we don't have the cash. We don't have the money to go to the studio to record. We have to go to the studio, record it, market it and spread it to the people. Our main problem is this. Most of them are still in school. I have 60 songs but cannot record it. When I freestyle, it is only for those around me. Those who are far cannot get me.
Third is the issue of copyrights. Most of here do not have access to technology. Even if I'm an artist, I am not exposed to big artists. I only listen to them on radio or when we go to discos. I have a smartphone because I was in college and needed one. I bought one using government loan, so I can access youtube. So, I view music videos, how labels operate, how the industry works. Those who don't have smartphone can't do that. So they will be artists for 1 or 2 years. Being an artist here is not easy. There are no studios here. I have to go 60 km to access a studio. The studio is very expensive. I can only afford 1 session per year. I have to hustle for a whole year to get money for the audio, video and the marketing. Big artists don't come to this area. We can't organise shows here. So, most people can't believe that they can do what these big artists do. You don't get exposed to this business. You can be an artist for a short period and then you quit because there is nobody to take you to the next level. You get discouraged. Nobody cares about the youth here.
The International: What are the problems the youth in Kenya in general face? You have rapped about certain people who are filling their bellies. Would you tell us more about that?
Bangaisa Crew: It is a long story. Since independence we have some families ruling us. If we look at the 1st president and 2nd president you will find out that the 1st president Jomo Kenyatta, his son is the second president. So you know that infection is like coming to the lower organs of the government so if you want to find a job or to have big position in the government you have to be connected to somebody. They ask you who are you 'you 'meaning who you understand who you are with your father who's your mother who's he in the government who's he in this office. If you're the son of a peasant you have worked hard, most of the youth resort to crimes. The government is pushing us to this extent. We have poor road, no jobs. You go to school for 12 years, then go to college but you end up hustling. You're up at 4, going to a construction site where you're paid 6 dollars a day. You have to then pay for food and transport. Every product in Kenya has a VAT OF 16%. Even the video call we're having here will be taxed. It is so hard, getting half a dollar a day can be a problem for some Kenyans…. Most Kenyan youths have mental health issues. Many are committing suicide. They have not seen a good future. Everything is discouraging. They are born in families where the mother is tired of life and the father comes home drunk and beats up the mother. This happens in a majority of families. The environment is unfit for raising children. We are living in a toxic environment.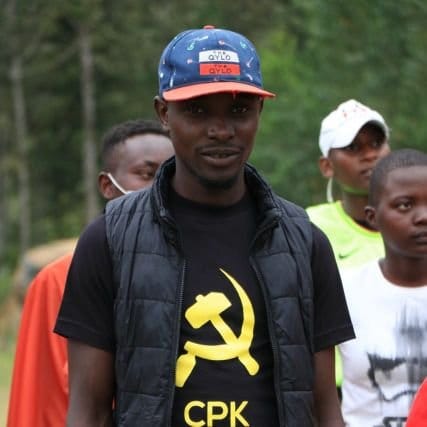 We can only look after our immediate family; people are building dynasties. We are living in a society where some people are powerful and others very weak. There is no money to buy medicines. I saw a mother with a sick child outside the dispensary, I had a dollar in my pocket and I had to give it out because communism teaches us to think for others. I imagined had I not been there the child would painfully look at the mother. Most of the families here live on one meal. Breakfast here is for the rich. It is not because most of us don't want to eat but because we cannot afford it. The education system here is for those who have memory, can memorise. It does not teach us creativity. Ever since we're young we are taught to go school, go to college and then get a job. So most of us think this way and then go to school and college. But then do not get jobs. You expect a job, a good life- driving a good car, taking care of family. That's the life most of us want here. That's why we are doing music. If you want a good life through this system of education it is very difficult. You lose belief in yourself and can't do anything because the system taught you to look for a job. You have to wake up every day and think about employment.
We go to schools not to gain knowledge but to get a job. We also have a biased media. It is very election minded. It is affecting everything, including football and education, food, everything is controlled by politics in Kenya. You have to be on the right side of the establishment. Even the judiciary is for the rich. They buy their freedom. If you have money you can do anything. You suffer from a young age. The problem is poverty. Most of us here live below the poverty line. We are struggling to come out of there. This is what Booker is trying to fight against.
But because of communism we learnt many things. We have our resources. Most of the people here have capitalist mindset. But the problem is that the rich end up getting richer.
We are organizing study circles in different regions. We are taught about Marxism Leninism. I have done my introductory part and I know how the reactionary government is oppressing us. This is the mood here. This time it won't be easy. But the youth won't allow anybody to play with their lives and this will decide the future. The study circle is really helping us. We are mobilizing the youth with music. They love us here. We also have shows and gather artists and teach them about Marx and Lenin. They can also help us spread it through music. We are spreading communism in every way.